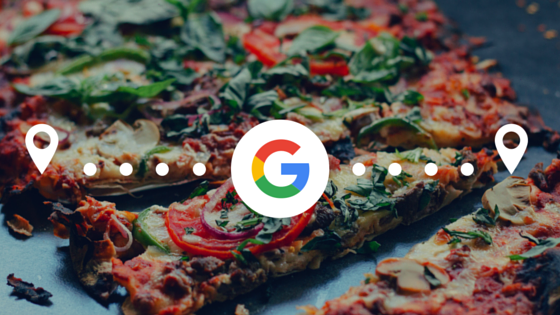 June 15, 2016: Google Maps is an important Google product used by millions of people each day on mobile and desktop devices. As we mentioned several weeks back, Google is now letting marketers place local search ads there, a move which that Morgan Stanley analysts believe will let Google make an additional $1.5 billion next year, so Maps will likely become an even more important product in the months and years ahead.
But even if your business has no current plans to advertise on Maps, there are steps you should take to optimize your presence there. Because Maps — while an incredible product form a user perspective, doesn't automatically create a favorable business presence for you. In fact, the way its default behavior works can often create a bad — or at least ineffective — presentation.
Let's look at what happens when two small businesses — Philadelphia-based pizzerias chosen at random — attempt to compete on Google Maps. One took care to create a complete its Google Business Profile, the other did not.
Lorenzo & Sons vs. Pizzeria Stella
Typing in the query "pizza" while the map is centered over downtown Philadelphia shows that one of our pizzerias, Lorenzo & Sons, has an immediate advantage in terms of its top rank in the stack of entries below the search box that will deliver it more clicks than its competition: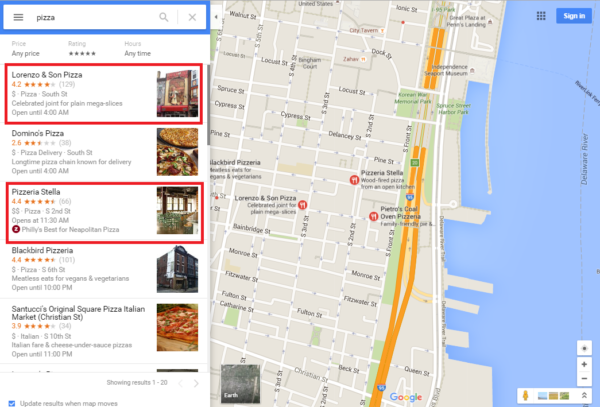 But much of Lorenzo & Son's advantage is lost when users click on its listing. Instead of seeing an image of one of Lorenzo & Son's delightful mega-slices, or an image of an attractive dining room, or even of Lorenzo himself, all that's there is a generic – and somewhat unattractive — image from Street View: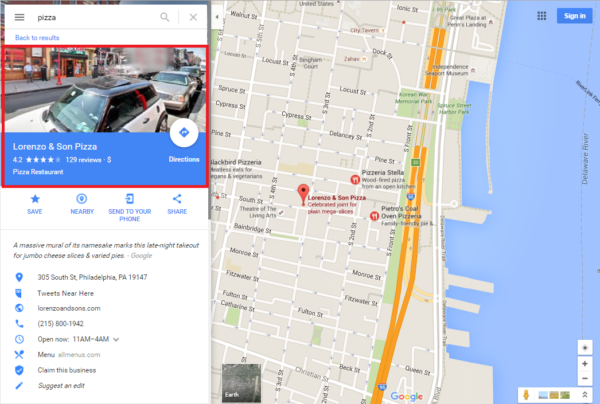 Clicking on this image simply expands Street View, and here, you can't even see Lorenzo & Son's – just a bar called "Dobbs," a Tai Chi Healing Spa, and a blurred-out delivery truck.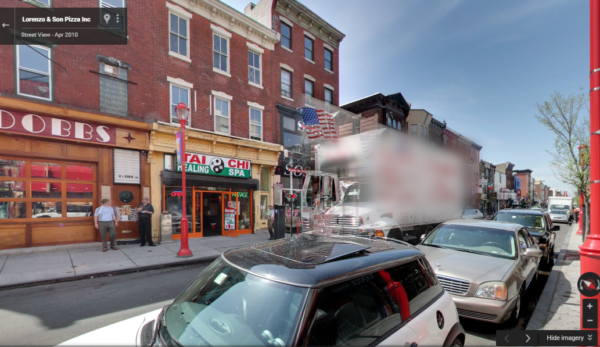 Only if you completely turn the Street View camera around can you actually see the business: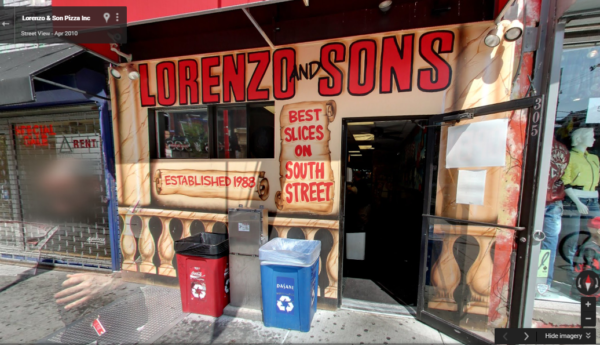 There it is! At last!
Obviously, this isn't a great presentation for Lorenzo & Son's and they should do something about it. But what?
The answer is obvious, once we return to the main maps screen and examine what happens when users click on Pizzeria Stella's listing.  First uses see a small image showing Pizzaria Stella's eating area.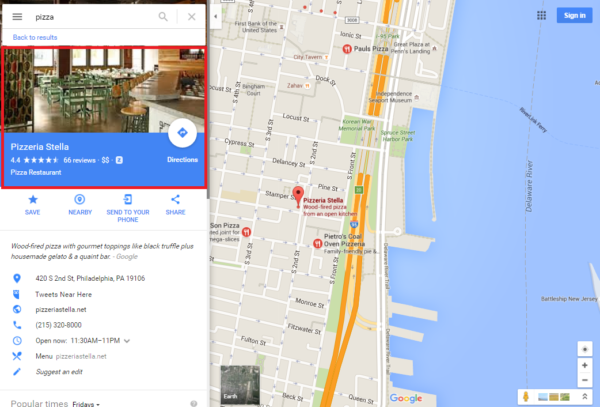 Clicking on this image – or on the listing text — doesn't go to a Street View image – but to a business-curated photo gallery. The first photo is a larger-format version of the thumbnail seen in the left-hand information panel: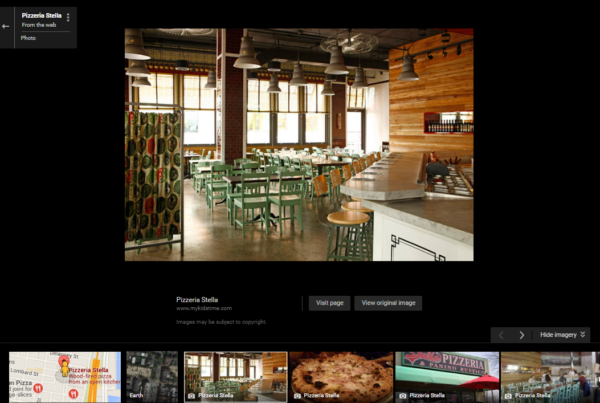 By clicking (or scrolling on moblle devices) left or right, users can view what they really want to view: close-up shots of the pizza itself! Now that's a business listing!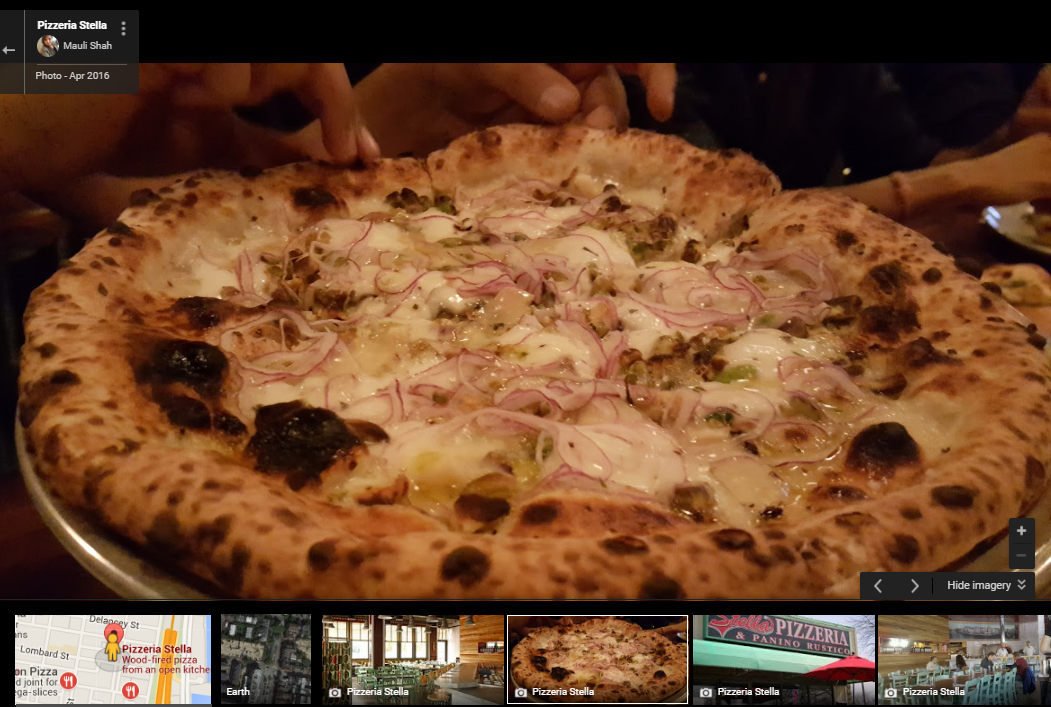 Obviously, this is a far better presentation than Lorenzo & Son's. It's compelling, it stimulates hunger, tells a story, and makes me want to visit the place. In fact, I'd argue that it's so much better that it manages to overcome Lorenzo & Son's top-rank advantage in the Maps SERP.
Is there anything that Lorenzo & Sons can do to correct its competitive disadvantage? Absolutely.
How to fix this
Lorenzo & Sons made a simple mistake that many other SMBs make: ignoring the importance of taking full advantage of Google My Business. This service – provided absolutely free – isn't just there to provide accurate business listings, but to let businesses fully represent themselves with photos, and even virtual tours. This functionality gives businesses a terrific branding opportunity that shouldn't be overlooked.
Unfortunately – as we've seen with Lorenzo & Sons – failing to upload representative photos causes Maps to default to Street View, which very seldom represents the business well (if it even represents it at all). While it's impossible to quantify that business loss that results from such a failure, it's never advisable to squander any competitive advantage.
SMBs: heed the call: claim your Google My Business Listing, but don't stop there. Use this platform to visually express what makes your business special. Take some great photos and upload them (if you need help, check out Didit's Beginner's Guide to Iphoneography).
And remember, if you don't do this, Google Maps will default to Street View images, which – as we've seen – can't be relied upon to express your branding. So show your maps users the slice – not the street!
Didit Editorial is the team publishing content to the Didit Marketing Blog.
Latest posts by Didit Editorial (see all)
Summary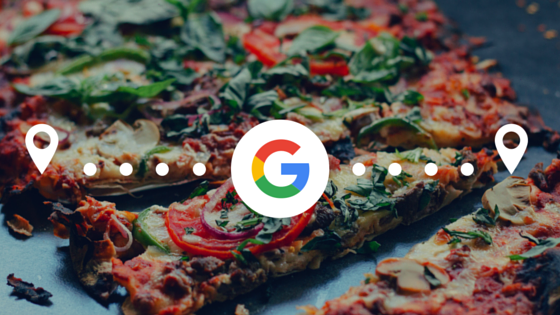 Article Name
A tale of two Pizzerias on Google Maps
Description
Now that Google Maps is allowing for paid ads, it's important to have an optimized listing to appear in results. Is your business ready?
Author